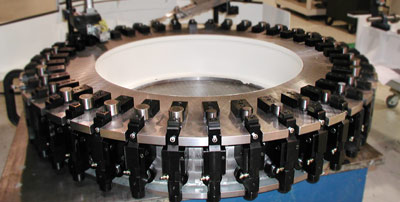 At Stapels Manufacturing we also offer turnkey solutions to your special machining, assembly and test needs. We are your "one stop shop" to get quality, price, and delivery.
Our position as an equipment manufacturer utilizing experienced designers, machinists, and assemblers allow us to build turnkey projects from the smallest of tools to complex fixtures.
We know that our success can only be assured as a result of our customer's success.
We will continually strive to supply goods and services that will ensure this aim.
Core Competencies:
Precision machining

Milling
Turning
Surface Grinding
Jig Grinding
OD/ID Grinding
CNC machining
Assembly

Fixtures, design & build
Special Tools, design & build
Sub-assemblies
Mechanical gauging
Material Handling
Piercing, design & build